Trixie Belden books have been published and re-published many times throughout the years. Trixie's look usually changes a bit with each new printing.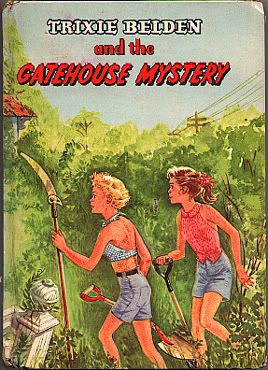 I'm not sure of the exact dates on all of these, but I think this is the first. Notice Trixie's midriff-baring top. Scandalous!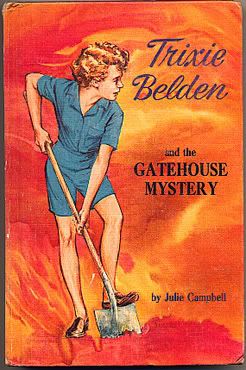 These are called the "Deluxe" editions, but I see nothing deluxe about them. They're plain and a bit ugly. I have #6 in this edition, and on it, Trixie looks like a scruffy boy in a dress.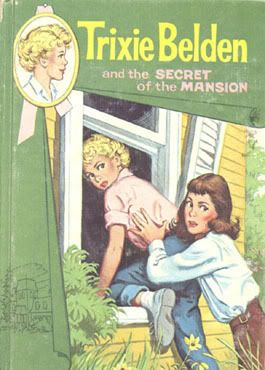 "Cameo" editions. I think Trixie and Honey look really cute in this one.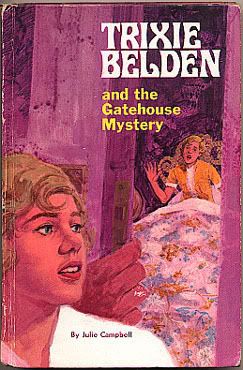 Fans call these the "short and ugly" editions. You can probably tell why. I really don't get this particular cover. What is Trixie looking at? Herself? In a bed, in the mansion? And there is a hand behind her, and everything is purple. Somehow, I don't remember that chapter in the book.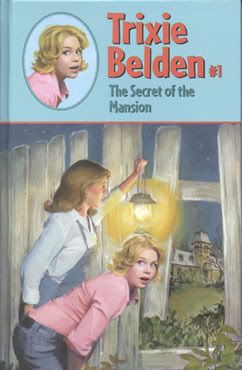 The newest editions, released in 2003. Trixie looks very modern and cute, but it just doesn't seem quite right to me. She's almost too pretty.
Though fans like to debate over which covers are the best, in this blog, you will be seeing the oval editions unless I can't find a good picture of them. These are the ones my older cousins had, and the ones I read when I was young. In fact, they're the only editions I've ever read. This is what Trixie looks like to me (except with normal flesh tones). She and all the Bob-Whites are firmly rooted in the 60's in my mind. I may post a few of the other covers just for comparison's sake, or to make fun of them. :)
With all that said, I will admit that some of the older covers are really intricate and have a lot of cool pictures and details. Some of the older editions have illustrations that the oval paperbacks don't have. You can check them out here. http://trixie-belden.com/books/editions.htm
Still working on
The Red Trailer Mystery
recap, but it shouldn't be too much longer. I got a bit distracted because my husband gave me
Watchmen
to read. I never read graphic novels, but I have to admit that one is pretty good.